Real natural wastewater treatment plant, the "Jardins Filtrants®" clean wastewater from the Resort and allow reuse for watering the green areas of our most innovative Resorts.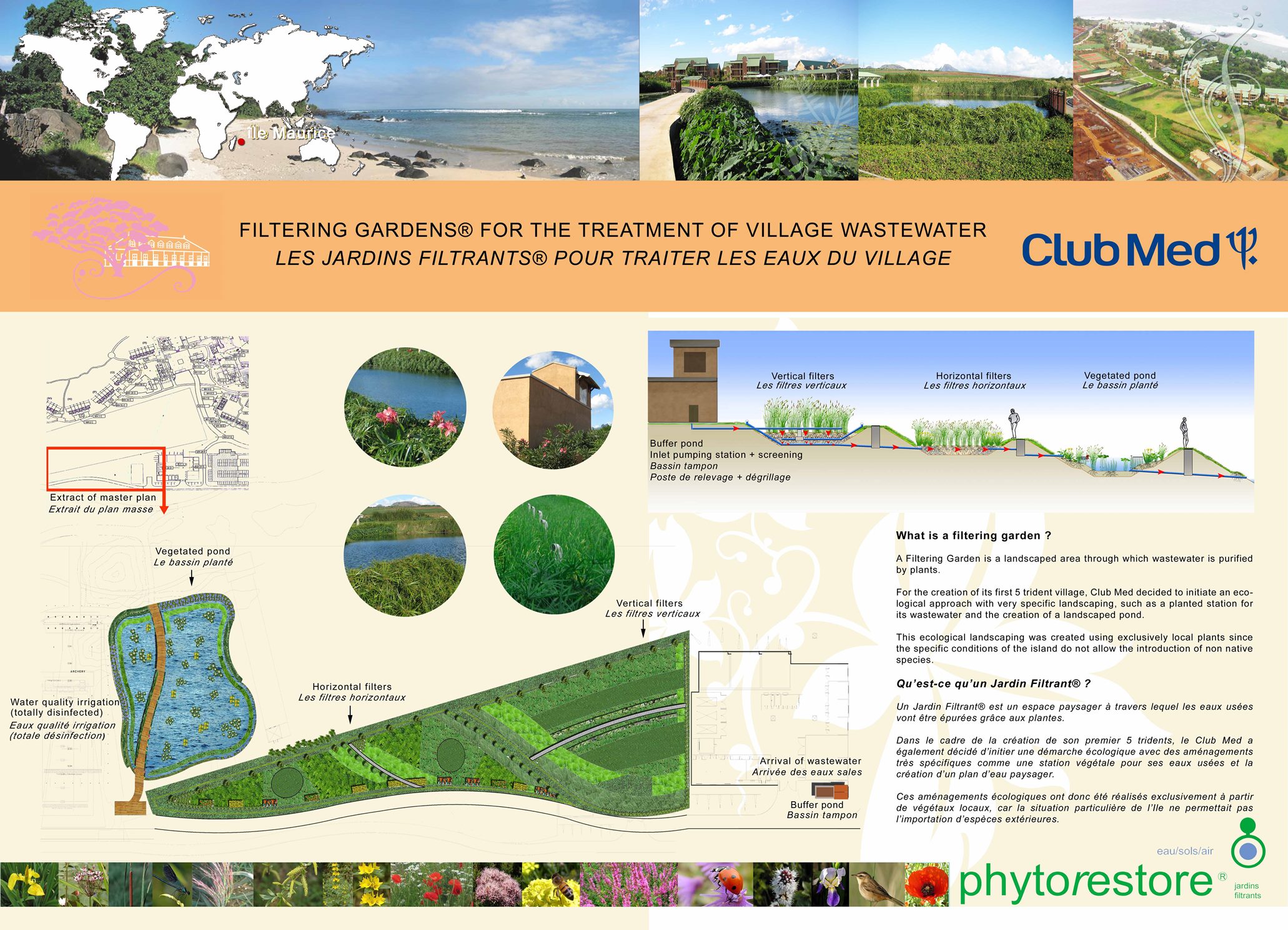 Detailed Solution description
The company Phytorestore implemented reconstructed wetland plant that can treat wastewater without generating any nuisance or rejection on Club Med Resorts at La Plantation d'Albion (Mauritius), Yasmina (Morocco) and Guilin (China).  Combining the different components of an ecosystem – higher plants, microorganisms, soils (alluvial materials, pozzolana, peat …), the Jardins Filtrants® are one of the most advanced solutions to treat wastewater (elimination of organic loads, nitrogen, phosphorus, disinfection of germs biodegradation of new molecules …).
The treated wastewater is then reused for irrigation of green areas. Beyond their landscaping, these Jardins Filtrants® of great ecological interest thanks to the combination of different substrates and plant species, habitats specific to certain species could reappear (niches, spawning grounds amphibians); wetlands have been recreated, with its many plants essential to the survival of tropical birds, and constituting a repository site for biodiversity (fauna and flora).

Launch Date
Implementation began on
Since 2006
Solution Partners
Phytorestore, a company specializing in the treatment of pollution (water, air and soil) by plants (phytoremediation) and that performs "Jardins Filtrants ®", landscaped spaces for pollution treatment mainly thanks to the technique of wetlands restored.
For more information : www.phytorestore.com
Weak points for Solution deployment
No point of particular vigilance, some simple gardening monitoring and regular maintenance operations have to be done.
Anticipate the establishment of a Biodiversity Nursery to get the plant in time: search for specific species and plant propagation in local nursery for the project.
Performance, impact and results
Environmental
Treatment refined and 100% environmentally friendly, requiring no energy, no chemicals
Social/societal
Simultaneous action on supply and demand and development of information on the ecological and social qualities of products to change behavior. Support for the green economy, evaluation of conservation benefits of services provided by nature. Awareness of decision makers in sustainable development issues and green technology.
Economic
The cost of this type of biological treatment plant is slightly lower than a conventional activated sludge plant. But above all, operating costs are significantly reduced because it requires no electricity or chemicals to operate.
Results observed to date
Phytorestore and Club Méditerranée in 2009 received the Prix Entreprises & Environnement - Bursars and Clean Technologies - for the treatment of wastewater Jardins Filtrants ® at Club Med La Plantation d'Albion Resort.
Professional contact

Agnes Weil
Club Méditerranée
SD and Philantropy Director


Press Contact

Laetitia Jeusset
Club Méditerranée
Resp. Communication Fondation et Développement Durable