Innovative and sustainable, these Villas operate mainly on renewable energy with almost 6,000 m² of solar panels self-cleaning, perfectly integrated in the architecture and landscape of the site. Special attention is also paid to water management, biodiversity and reducing and recycling waste.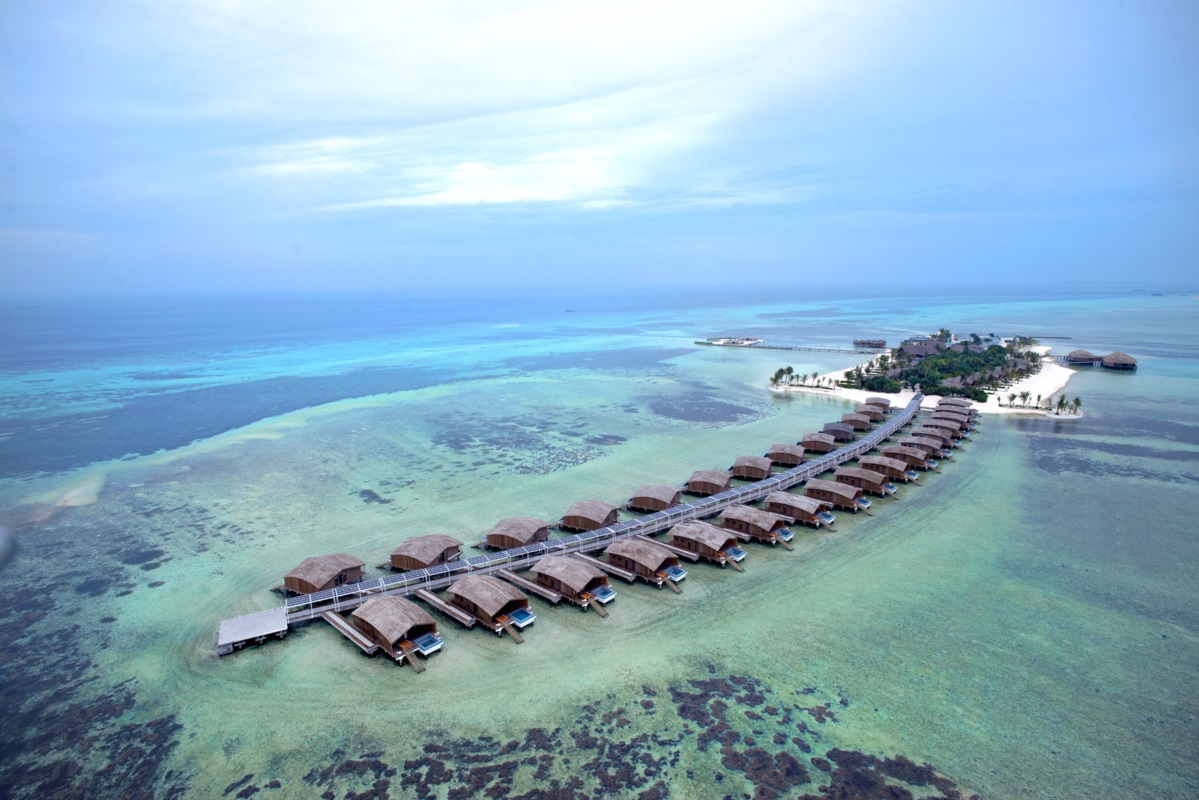 Detailed Solution description
Energy Production System: about 30% of the electricity derives from solar energy
Finolhu provides autonomously its own electricity using an integrated system made of 3 different sources of energy: solar PV panels, batteries and diesel generators.
About 30% of the energy supply comes from 6 000 m2 of solar PV panels, covering all roofs that can accommodate such equipment. During night time or cloudy/rainy days, the supply comes from the batteries (charged during sunny days) or diesel generators. The system is controlled by an autonomous system that coordinates and synchronizes the production depending on the demand. Furthermore, each solar PV panels have an automated washing machine, to ensure maximum efficiency with low maintenance costs. In the control room a touchscreen supply all the information regarding the system, as well as the amount of CO2 saved thanks to the solar PV system.
Potable water
Sea water is pumped through sand filter to remove remaining particles, and then pushed with high pressure to the two reverse osmosis units where salt is captured by the membranes, to produce fresh potable water.
A bottling plant has been installed, to replace remaining plastic bottles (Room service, Restaurant) with glass bottles filled with Finolhu's fresh water.
Waste water
Finolhu operates a fully automated sewage (wastewater) treatment plant "STP", which conforms to European Union standards. The STP removes contaminants through a biological and chemical process (chlorine is used in small quantities to further disinfect the effluent) and produces an end product (effluent) which is safe to reuse in the environment. Grey water (waste water after treatment) flows through a carbon filter and a UV lamp filter to remove odor and bacteria. It is then used to water the plant and flush the toilets.
Waste management
Waste management is another important issue for any Maldivian Resorts.
Green waste are used as compost on the island

Food waste are crushed with a macerator machine and then sent to the Sewage Treatment Plant

Glass crusher cuts glass bottles into small particles of glass that are mixed with sand.

Compactor, to compact waste that are sent to Thilafushi (such as metal packaging, some plastic that can't be burnt…), waste management center for the atoll.

Solid waste from the waste water treatment plant will be dried and used as fertilizer.

And burnable wastes (cardboard, papers, plastic bottles…) are incinerated. a more advanced technology of incinerator, with heat recovery  is under study.

 

Plants

The island has been artificially extended. Trees already existing have been protected and new plants have been planted.  

 

Coral propagation project

Just like in Kani, Club Med is working on helping corals to grow around the island thanks to the coral propagation project, in partnership with Seamarc. The coral propagation is a big success, the oldest ones has already one year and we can see how nice they are growing . The quantity and type of fish has also increase in the lagoon.

 

Activities

A wide range of sensitization activities are offered such as diving under the leadership expertise of Eurodivers; cultural activities based on local culture, history and folklore; lectures on marine life of the Maldives carried out by divers (from Eurodiver); stargazing to the telescope.
Launch Date
Implementation began on
operational since 2014
Solution Partners
The Champa group (an Maldives holding specialized in tourism), owner of the resort.
Weak points for Solution deployment
3 different sources of energy:
• 36 Solar Inverter that converts the energy (from DC to AC) collected by 3854 solar panels with a total absorbing area of 5889 m2, with a total peak power of 994 kWp, and an average power of 700kWh
• 1 Battery Energy Storage System equipped with 64 batteries for a total nominal storage size of 1500 kWh
• 3 Stamford AC Generators driven by Cummins diesel engines, producing a theoretical maximum of 1680 kW (2100 kVA).
Potable water
• Production of 2x200m3 per day (from 2 production units)
• Storage capacity of 1300m3 (more than enough for the capacity of the village), based on 500L/person/day, the island as a 3 days supply stock.
Professional contact

Agnes Weil
Club Méditerranée
SD and Philantropy Director


Press Contact

Laetitia Jeusset
Club Méditerranée
Foundation and SD Communication Manager