Protecting the forests is essential if we are to keep the planet strong and reduce greenhouse gas emissions. Carrefour designs and markets alternative products that enable its customers to take action on a daily basis.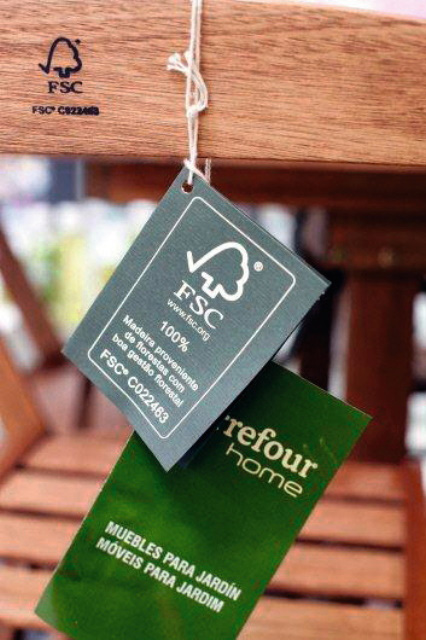 Detailed Solution description
Very early on, Carrefour set itself the target of reaching zero deforestation by 2020. To help meet this aim, the retailer has a range of certified goods and products. This initiative is being supported by the WWF, an international NGO that has been one of Carrefour's partners since 1998.
Deforestation is responsible for the 20% of the world's greenhouse gas emissions (UN Charter of Commitment), when 50% of CO2 emissions are absorbed by natural resources ("The role of nature in climate change", published by the EU Commission in August 2009).
Labels have been developed which help promote sustainable forest management. These labels – FSC and PEFC – give guarantees that the fibres used in the paper have been recycled and / or come from sustainably managed forests, and have been made using methods that have a minimal impact on the environment.
Carrefour offers a range of solutions in its stores that help tackle climate change, with products made of wood or certified paper. These include FSC-certified outdoor furniture, garden tools, coffee filters and brushes. Focus on three product families.
For example, as soon as spring arrives, Carrefour's stores stock more than twenty outdoor furniture items made of FSC-certified eucalyptus.
Throughout the year – and in September in particular – a wide range of paper products made from recycled or certified fibres is available. This includes Carrefour's exercise books (which are all NF environment-certified), sticky notes, all of Carrefour's paper reams and 60% of its envelopes.  A ream of Ecoplanet paper is made in France entirely from recycled fibres. Thanks to the expertise of Carrefour's partner manufacturer, it is made without any chemical bleaching agents.
As a major seller of bedlinen and the leading distributor of organic cotton bedlinen, Carrefour has replaced the PVC packaging that it used to use with a straightforward cardboard strip – obviously made from recycled or certified paper. Similarly, Carrefour has redesigned all of the cardboard-based packaging that it uses for its TEX product range – it is now all FSC-certified. This represents a total of 358 tonnes of cardboard in 2014 (as opposed to 230 tonnes in 2013).
And Carrefour is not only focusing its efforts on its sales offering. The Group is now using certified or recycled paper for its business documents (all of the paper that it uses in its sales publications is now certified or recycled), as well as certified paper in its offices (all of the paper that we use in our offices in France is now PEFC-certified). This accounted for 1862 tonnes of paper in 2014.
And in France, the paper we use for our Carrefour till receipts and coupons is now certified, derived from sustainably managed forests. Whenever possible, Carrefour strives to do away with paper-based documents: prospectuses, emails and loyalty cheques can all be accessed at Carrefour.fr; cheques and loyalty cards can now be loaded onto smartphones.
Launch Date
Implementation began on
2010
Press Contact

Dolfus Alix
Communication manager