Energeasy Connect is a solution comprising a smartphone and mobile app which can be used to manage smart appliances in the home. Energeasy Connect is a intelligent home system for managing smart appliances within the home using a single application accessible via a smartphone or tablet. Whether at home or away, users can control their domestic appliances (heating, shutters, lighting etc.) and only consume the energy they need, on a room-by-room, hour-by-hour basis.
Thanks to the application's personalised and intuitive interface, the user can programme and activate different scenarios that respond to their lifestyle, needs and desires, either by appliance or by group of appliances. In this way, Energeasy Connect optimises energy consumption day-by-day. For example, in the evening, with just the touch of a button, any lights still on are switched off, the heating powers down to economy mode and the garden lights are turned off.
Energeasy Connect can also be used to analyse energy consumption. Each appliance that comprises an expense is identified so that changes in daily consumption can be monitored throughout the year. At any time, the user can take appropriate action to reduce their energy bill and in so doing any associated CO2 emissions.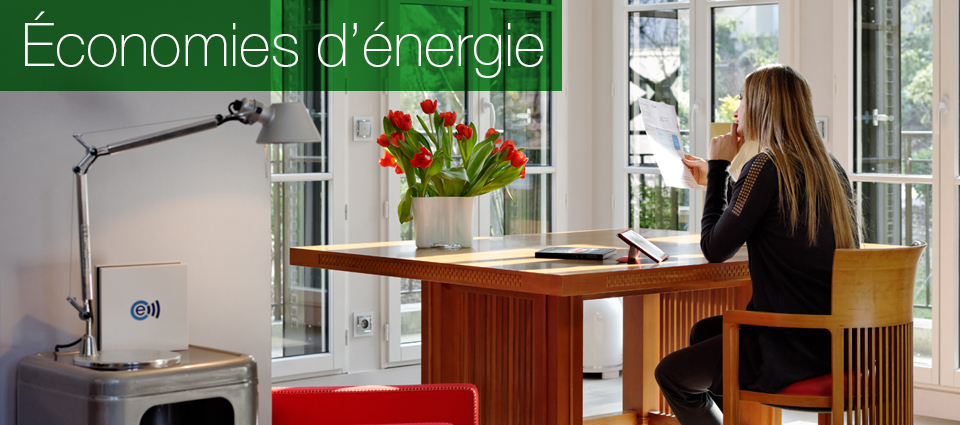 Detailed Solution description
Today, home automation can improve a home's comfort while optimizing energy consumption. The biggest energy cost to households is heating . With Energeasy Connect, offered exclusively by Rexel, it is now possible to control a home's heating and hundreds of connected devices in line with the inhabitant's needs and lifestyle. Better heating control alone can save a household up to 20% off the energy bill. Energeasy Connect also allows end users to program their boiler and lighting to avoid unnecessary expenses. Using a, fun and intuitive interface, on a smartphone or tablet, each end-user can program and customize scenarios for their appliances according to their needs. They can choose to activate a particular scenario manually or using the automatic settings programmed by type of activity (such as: I get up, I go to bed, I leave the home, I'm coming back home…) or based on a typical day (day at work, day at home, on vacation … or very cold day, summer day…). Finally, the end-user can match their scenario with one or more days of the week. Thus, the scenarios will be automatically initiated on those dates and times that have been set by the end-user. Following is an example of energy management on a typical day in which a family leave for work and school.
At 6.30 a.m: the 'getting up' scenario, which switches heating to Comfort mode in the living rooms, starts automatically.
At 8.30 a.m. (last person leaves): the 'leaving the house' scenario turns off all the lights, pulls down the shutters and switches the heating to Economy mode .
At 4.30 p.m. (children due back from school soon): the 'coming home' scenario which switches the heating to Comfort mode in the living rooms kick-starts.
At 7.30 p.m.: A scenario which switches heating to comfort mode in the bedrooms starts automatically
At 10.30 p.m.: A scenario, which switches the heating to economy mode in the whole house and closes all the shutters, starts automatically.
Energeasy Connect can save energy easily and quickly, without sacrificing the comfort level of the inhabitants. The 'smart' system puts all appliances on standby when not in use and switches the heating to eco mode in unoccupied rooms. Easy to use, the whole family can track their energy consumption in real time for key areas of expenditure  (such as heating, hot water, ventilation…) and take action immediately. Each item of expenditure is identified on a dashboard and the rate of energy use is forecasted up to the date of the next bill. The end-user is also alerted in the case of abnormally high energy use, or in the event the energy consumption thresholds they have set themselves are exceeded. Other significant benefits to the solution include: The ease with which Energeasy Connect can be installed in a new home or one that is being renovated, on any type of electric heater/radiator (with a pilot wire) and on all types of hot water radiators, without requiring any wiring, nor the need to redecorate. The installation of Energeasy Connect is reliable, secure and versatile. Rexel also provides assistance to installers to help answer any technical questions, and provide remote assistance if required.
Launch Date
Implementation began on
Energeasy Connect has been on the market since 2015
Solution Partners
The occupants of a home, the installers, Rexel who markets the solution and provides technical assistance and remote maintenance services, manufacturers (suppliers of smart electrical appliances ) and power companies
Weak points for Solution deployment
The end-user must have a router provided by their telecommunications operator.
Key figures illustrating Solution deployment and results
Better heating control alone can save a household up to 20% off the energy bill.
Performance, impact and results
Environmental
Energeasy Connect is a means of managing and reducing energy consumption. Energy savings mean lower carbon emissions.
Social/societal
Energeasy Connect puts end-users and the occupants of a home in control of their own energy consumption. It also helps to instil responsible energy consumption and speeds up the adoption of energy efficient behaviour.
Economic
Better heating control alone can save a household up to 20% off the energy bill
Technical
Energeasy Connect uses technology to reduce energy consumption and, ultimately, C02emissions, without sacrificing user comfort and well-being. This home automation technology regroups smart solutions by appliance or sets of appliances and can incorporate new appliances regardless of brand or protocol
Professional contact

Clémentine Prat
Rexel
Partnerships Director