Two companies of Sofiprotéol Group valorise by-products, downgraded products, residues and waste issuing from our plants or from other enterprises: Terrial produces organic fertilisers out of biomass residues; Adonial collects residues and downgraded products from the agrifood industry and transforms them into animal feed components. The clever re-use of byproducts and valorisation of residues helps us optimizing and reducing resources and fossil fuel consumption.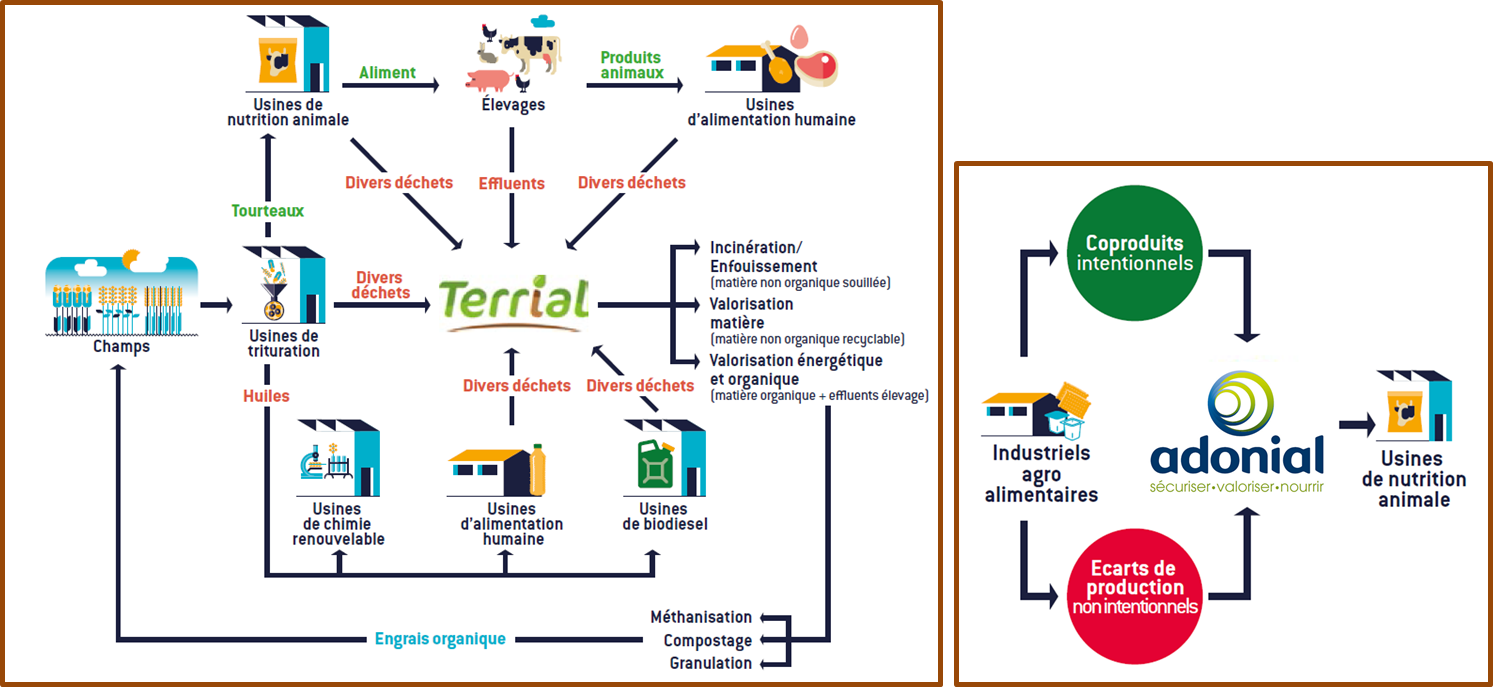 Detailed Solution description
Adonial valorises by-products and downgraded products issuing from food processing industries into animal nutrition components. We are a link between these two unfamiliar sectors. Our job is to valorise these products as best as possible while taking into account their nutritional value, visual appearance, available quantity and conditions of collecting and sorting. We are continuously committed to traceability and food safety. Our goal is to secure and ensure the continuity of the treatment and valorisation businesses. This contributes to sustainable development and resources valorisation. Adonial strives to valorise by-products and downgraded products with the best technical, sanitary and economical relevance. We work in a non-specialised way in so far as we deal with all kind of products: biscuits, dairy products, sugar, breadcrumbs, fibrous and cellulosic by-products… We process dry, wet and liquid products just as well. Many factors impact on the success or failure of the valorisation of by-products into animal nutrition. We do not succeed every time but when we do we are proud to say we have a good story to tell of transforming constraints into opportunities and to give a second life to materials which could have been destroyed otherwise.
Terrial deals with by-products and organic waste issuing from the agroindustry and food processing sectors, and also with livestock manure, in order to produce fertilisers (compost or pellets) out of them. Its know-how lies in its precise knowledge and characterisation of these materials so as to create adequate formulas for fertilisers to precisely meet the needs of the plants. Its expertise also lies in the collection logistics of these by-products, and in the production and delivery planning of the fertilisers. In addition, Terrial developed other product ranges (nutritional products to nourish plants with trace elements and products to boost the microbial activity of the soils) so that plants make the best of the provided fertilisers, thus minimising the loss of material. This is part of a circular economy, where cultivated plants and farm animals are transformed in processing industries, and where consequently produced by-products and manure are valorised as fertilisers to nourish cultivated plants in return.
"From plants feeding animals, to animals feeding plants"
Launch Date
Implementation began on
Terrial and Adonial were created in the 90's
Solution Partners
Each company of the Sofiprotéol Group and especially
Saipol (Sofiprotéol) : oil and oilseed cake production, and oil refining
Glon Sanders (Sofiprotéol): animal nutrition, processing of animal products for human nutrition
Partners working with Adonial
- Enterprises of the agricultural sectors
- Enterprises of the food processing sectors.
Weak points for Solution deployment
The main limitation for certain by-product pools is logistical: we strive to bring pools and related outlets closer to one another.
Key figures illustrating Solution deployment and results
170,000 tonnes of fertilizers are produced annually;
55,000 tonnes of residues resulting from Saipol's activity are processed by Terrial;
Over 67,000 tonnes of residues were treated by Adonial in 2013.
Performance, impact and results
Environmental
Example for Terrial: Production of organic fertilisers: • Recycling of organic material and fertilising elements  minimise the resources consumption • Substitution of GHG-emitting chemical fertilisers by organic fertilisers  reduce the emission of GHG Production of renewable energy • Supply for biogas plants  reduce the emission of GHG Figures For each truck delivering organic fertiliser: 2.7 TCO2eq/year are avoided and 0.9 Tep are saved Each year, the whole activity of Terrial prevents the emission of 20,000 TCO2eq. How Terrial address water quality expectations • Terrial enables the valorisation of livestock manure in areas were the production of manure exceeds the absorption capacities of the soil in nitrogen and phosphorus. By exporting nitrogen and phosphorus, through organic fertilisers, to areas which lack of these elements, Terrial helps reducing the problems of nitrogen and phosphorus pollution in the areas in excess. • The organic fertilisers helps improving the soil structure, enhancing the ionic retention and the available water capacity, thus preventing nutrients leaching and therefore water pollution.
Social/societal
Reduction of the access-to-energy disparities (Terrial) thanks to biogas plants (used during the fertiliser making process) which are spread across France, thus producing "decentralised" electricity.
Economic
Adonial: Each year, 60,000 tonnes of by-products and downgraded products are bought from processing industries. Without the solutions we provide, these volumes could have led to additional costs for those industries. Instead, food processing industries save money and animal nutrition industries get the opportunity to acquire raw material at reduced price. Terrial: it helps sustaining the food processing sector in breeding areas, helps preserving the soil quality, and contributes to maintain the yields in grain-producing areas.
Technical
Adonial : development of particular processes such as drying, assembling, extrusion, mixing, etc.
Results observed to date
observed since the creation of the previously named Trade Alliance (ADONIAL = merger of Trade Alliance and Arba), 10 years ago.
Professional contact

Philippe Cousin
ADONIAL
Directeur Opérationnel


Press Contact

CLAUDIA LEVEAU
Groupe Avril-Pôle Animal
Directrice Communication


Other contact

Antoine LENEPVEU
TERRIAL
Responsable co-produits filières énergies
antoine.lenepveu@terrial.fr
02 99 52 59 20