And if we produced both energy and compost from your waste? This is possible thanks to the anaerobic digestion of organic waste, while avoiding greenhouse gas emissions. Let us consider the Artois Anaerobic digestion site managed by Veolia.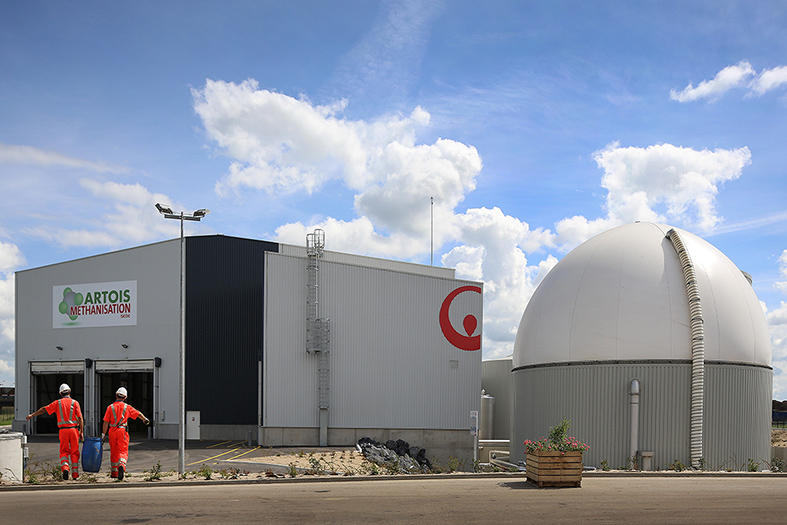 Detailed Solution description
ANAEROBIC DIGESTION ELECTRIFIES OUR WASTE AND ENSURES A GREEN FUTURE The anaerobic digestion of the organic matter contained in waste is one of the openings for the future of green energy generation in France. The target is to achieve 23% of renewable energies in the energy mix by 2020. This solution is one response to energy transition priorities in the country thanks to the local use and production of renewable energy from biomass. The development of this technology has particularly been promoted in the context of the Grenelle law on the environment II, which required large-scale producers and owners to sort their organic waste at source and ensure 75% re-use from 2012. At the heart of an agricultural region in north France, at Graincourt-lès-Havrincourt, near to Arras, Veolia, via its subsidiary, SEDE Environnement, has owned 8.5 hectares dedicated to composting wastewater sludge since 2000. The "Artois Anaerobic digestion" multi-sector treatment unit was constructed at this Artois Compost site in 2012. This unit can be used to re-use all sorts of organic waste: agricultural waste, (agricultural biomass, chicory roots, etc.), food industries (biological muds, flotation fats, manufacturing offcuts, meat waste, catering fats, etc.), authorities (grass, canteen waste, etc.) and supermarkets (packaged un-sellable products, etc.). The Artois Anaerobic digestion site covers 9,000 m2 and has been operational since 2012. The site is equipped with a complete loop of solutions from deconditioning to re-use. Packaging is separated from organic material before being sorted and directed to the appropriate recycling units (cardboard, plastic, etc.). The organic material is placed in a digester where the biowaste will be degraded in the absence of oxygen. This process allows the plant to generate 3.5 million m3 of biogas each year, transformed into electricity by combustion. The annual treatment of 25,000 tons of organic waste generates 8,000 megawatts in electricity (MWh), equivalent to the consumption of 2,700 households. This green energy is sold on and injected into the EDF power grid, avoiding the emission of 2,000 equivalent tons of CO2 each year. The location of the site at the edge of an inland waterway allows waste to be transported in this manner, reducing pollution when compared with road transport. The organic matter which is not degraded during the process represents 7,000 tons of stabilised and balanced digestate, which is used as compost on nearby farming land. Artois Anaerobic digestion benefits from synergies with existing activities and infrastructures on the Artois Compost site and fully illustrates the potential of anaerobic digestion in terms of sustainable development at regional level. This project worth 8 million euros is supported by the region of Nord-Pas-de-Calais, and received €1.1 million in funding from the European Union, via the European Regional Development Fund (ERDF), and 300,000 euros from the French Agence de l'Environnement et de la Maîtrise de l'Energie (ADEME).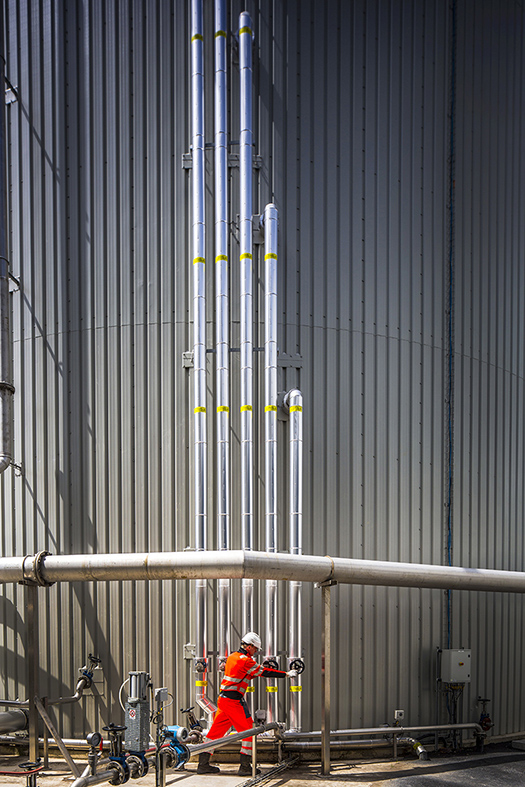 © Phototheque VEOLIA - Christophe Majani d'Inguimbert
Launch Date
Implementation began on
The Artois Anaerobic digestion unit has been operational since April 2012.
Solution Partners
- Veolia and its subsidiary, SEDE Environnement, Veolia STI for the supply of processing equipment, GRS Valtech, Veolia subsidiary, for its expertise in the preparation of biogas and cogeneration, and Veolia Recherche & Innovation, which works jointly with SEDE Environnement on the installation of a pilot anaerobic digestion unit.
- The region of Nord-Pas-de-Calais.
- The European Union and the French Agence de l'environnement et de la maîtrise de l'énergie, which partially funded the project.
Key figures illustrating Solution deployment and results
- 25,000 tons of waste treated each year
- 3.5 million m3 of biogas generated
- 8,000 MWh in electricity generated each year (equivalent to the consumption of 2,700 French households)
- 7,000 tons of digestate per year, which can be used as fertiliser
- 2,000 tons of emissions in CO2 equivalent avoided
Performance, impact and results
Environmental
Integration of biowaste in a vicious recycling circle, possibility for large-scale producers and owners of biowaste to satisfy the 75% re-use required by the Grenelle law on the Environment II, local generation and use of renewable energies from biomass, reduced environmental footprint (2,000 t of CO2 equivalent emissions avoided).
Social/societal
Creation of 15 jobs when commissioning Artois Anaerobic digestion.
Economic
Generation of local green energy (equivalent to the electrical consumption of 2,700 French households each year) and digestate which can be used as fertiliser (7,000 tons each year).
Technical
Multi-sector treatment unit able to re-use all types of organic waste, complete loop of solutions from deconditioning to re-use, innovative anaerobic digestion progress, upgradable treatment capacity for the plant.
Professional contact

Fanny Demulier
Veolia
CSR Officer


Press Contact

Marie Bouvet
Veolia
Press Relations